The election was a big topic of discussion at the recent 83rd Annual Meeting and Trade Show of the American Society of Farm Managers and Rural Appraisers and AgroNomics Conference & Trade Show held in Indianapolis, Ind. (And, frankly, where WASN'T the election a big topic of discussion?) During the show and just prior to last night's results, Chuck caught up with Merrill Swanson, a partner with the appraisal firm Dugger, Canaday, Grafe, Inc. out of San Antonio, Texas, and he said they were already feeling the effects of the election even before any ballots were cast.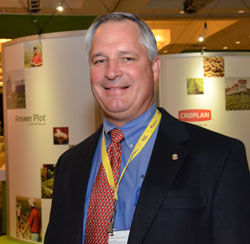 "Much of our work applies to estate planning work, and with the tax law changes coming up, our firm has been extremely busy with estate planning appraisals of farms and ranches," he said, highlighting that the end of the $5 million lifetime exemption ending on December 31st, has a lot of land owners are scrambling to get things in order. That includes a lot of sales with owners trying to beat that deadline. Swanson added that's what makes networking at an event like the ASFMRA conference so important.
"Trends happen earlier some places than others," he said, pointing out that land prices are at an all-time high in the Midwest with some Iowa farms going for as much as $10,000-$20,000 an acre. And those rising prices are lifting values all over the country as well. Plus with those changes in values and the pending estate taxes changes, they have their fill of work and won't give any more appraisal reports until after the first of the New Year. He added the uncertainties of what will happen with all taxes and a lack of a farm bill now are prompting a lot of movement in the land appraisal business.
Listen to Chuck's interview with Merrill here: Interview with Merrill Swanson, a partner with Dugger, Canaday, Grafe, Inc.
AgWired coverage of the ASFMRA Agronomics Conference is sponsored by Halderman Farm Management.