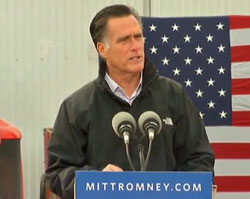 Republican presidential candidate Mitt Romney put his focus on agriculture and rural policy on Tuesday with the release of an agricultural policy white paper and a visit to an Iowa farm.
Romney's "vision for a vibrant rural America" includes tax policies to support family farms, expanding agricultural trade, achieving energy independence by 2020, and creating a commonsense regulatory environment. "The regulatory burden under this administration has just gone crazy," said Romney during his stop at the Koch family farm near Van Meter, Iowa. "I'm going to put cap on regulation and any new major regulation will have to be approved by Congress."
Under tax policy, the white paper says Romney will "permanently eliminate the estate tax so that families passing farms from generation to generation will not have to worry about liquidating their assets." Romney's trade policy includes completing the Trans-Pacific Partnership and pursuing new agreements, focusing particularly on promising markets in Latin America. His agenda for energy independence includes maintaining the Renewable Fuel Standard (RFS), "fulfilling the federal government's commitment to biofuels growers and refiners and providing them the certainty they need to followthrough on their investments in promising technologies."
Listen to or download Romney speech in Iowa – Mitt Romney in Iowa
Read the entire Romney Agriculture White Paper.