The gavel has been passed and on January 1 Paul Redhage, FMC Agricultural Products, will be the new President of the National Agri-Marketing Association. During the NAMA Fall Conference I got to visit with Paul.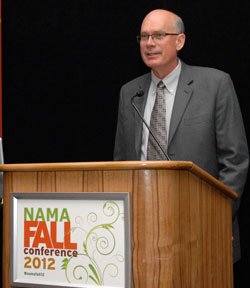 Paul is looking forward to having fun in 2013 and says that the whole networking aspect of NAMA will mean we'll all learn a lot from each other. There is a lot of room for growth in the membership of NAMA so one of Paul's major focuses is to build on the work of the membership committee to continue to create awareness of the organization and what it offers.
Paul says the executive committee will continue to work on the strategic plan by taking a new look at it and put in place some ways to measure how we're doing. He says there are many other things to work on and that includes professional development. Listen in on our conversation to hear what Paul sees ahead in 2013.
Listen to this week's ZimmCast here: A NAMA Look Ahead
2012 NAMA Fall Conference Photo Album
Thanks to our ZimmCast sponsors, GROWMARK, locally owned, globally strong and Monsanto, Roundup Ready Plus, for their support.
The ZimmCast is the official weekly podcast of AgWired. Subscribe so you can listen when and where you want. Just go to our Subscribe page.