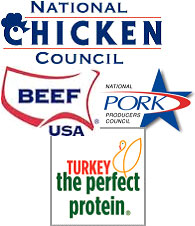 Livestock and poultry producers are filing a petition with the Environmental Protection Agency (EPA) seeking a waiver from the Renewable Fuel Standard (RFS) in light of the current drought situation likely to cause feed shortages.
"We need a waiver now," said Randy Spronk of Minnesota, National Pork Producers Council president-elect.
"I and NCBA support American ethanol," said National Cattlemen's Beef Association president J.D. Alexander of Nebraska. "I'm not asking for a handout. I'm asking for the federal government to let the market work."
John Burkel, Minnesota turkey grower and National Turkey Federation vice chairman, says he has already cancelled his last flock of turkeys for this year. "The ethanol waiver is a must and I hope the administration acts now," he said.
"Relief from the Renewable Fuel Standard is extremely urgent," said Past National Chicken Council chairman Michael Welch, President & CEO of Harrison Poultry in Bethlehem, Georgia.
Listen to opening comments at a press conference this morning from the four organization leaders here: Livestock and Poultry groups