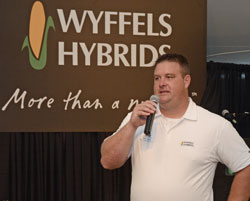 If you look at the last two summers in the upper Midwest, you couldn't find a sharper contrast: plenty of rain, too much of it in many cases last year, and bone dry and hot across much of the corn growing areas this year. That's part of what the folks at the Wyffels Hybrids Corn Strategies event in Vincent, Iowa heard this year. While Chuck reports that the corn looked pretty good on the Harmon Farm, Wyffels' Adam Ploog says it's been hit or miss this season in his territory, with "spots where the crop looks decent, hanging in there" to lighter soils and corn in rough shape.
Ploog explained to be ready for these unusual seasons, you have to be constantly changing the lineup. "You've got to always be striving to have a few more bushels than the year before," he said, adding that Wyffels has rolled out several new Genuity® SmartStax® hybrids to meet the challenges of rootworms. "We just continue, continue, continue to spend money on research to really strengthen our lineup to put together a full package for growers."
Don't forget, the Wyffels Hybrids Corn Strategies team will be setting up tomorrow, July 18th on Nicholas Farms near Litchfield, Illinois.
Listen to Chuck's interview with Adam here: Interview with Adam Ploog, Wyffels Hybrids