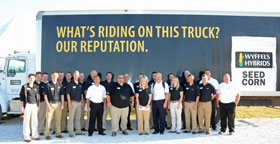 Wyffels Hybrids is kicking off a series of Corn Strategies sessions this year in Vincent, IA. Here's the team this morning getting ready for the tent capacity filled crowd that's here on Harmon Farms. What a contrast I've seen in corn yesterday to today. The corn here looks great. Although I'm sure there are local farmers here who would like it to be even better. The corn in north central Illinois I saw yesterday was pretty well "toast."
We've got a strong program taking place in a nicely air conditioned tent that includes speakers like Dr. Michael Swanson, Chief Economist, Wells Fargo; Arlan Suderman, Market Analyst, Farm Futures Magazine; Bill Tierney, Chief Economist, AgResource Comapny and one of my favorites, Dr. Fred Below, University of Illinois. I'll have lots of interviews to share in coming days.
You can find photos from today's event here: 2012 Wyffels Hybrids Corn Strategies Photo Album. I'll add a lot more later today when I get to some better internet access although it's pretty good using my Verizon Razr out here in a corn field!