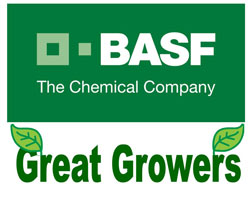 BASF Great Grower Kip Tom of Indiana and his son Kyle were at the recent BASF Agricultural Solutions Media Summit, so I had the opportunity to get an update on their crops and find out more about them.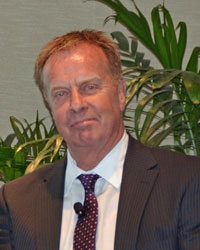 "We're dry, there's no question about it," Kip told me. That was two weeks ago and they are still dry. In fact, at least 80 percent of Indiana is considered to be in a moderate drought right now. Kip says they had less than an inch of rain in both April and May.
Kip says they are very strategic in the placement of their varieties by soil type and population. "So we hope we've done the best job of positioning across all our fields to produce in optimal conditions, but when we get into a drought or stress condition still can produce a good crop," he said.
The condition of the crop at Kip's farm in north central Indiana and around the state has dropped in recent weeks from the dry conditions. "Things can deteriorate pretty fast because we have no subsoil moisture," he said. This past week, the corn condition in Indiana was rated over 70 percent fair to good, but 24% was rated poor to very poor.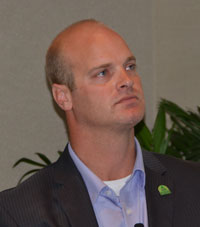 At the BASF event, Kip and his son Kyle participated in a panel that looked at the future of farming and feeding the world. Kyle believes the farmer of the future is going to be more of a businessman with a strong background in math and science. "We use math and science every day – in formulations of chemicals, on spreadsheets, doing accounting – we use those two more than anything else," he said.
Kyle is a young farmer who has seen a great deal of changes in agriculture just in his lifetime on the farm. "I graduated high school in 1996 and went on to a four year college and when I came back we had just started talking about this GPS, this auto steer," he said. "With the innovations that we have now, it's really surpassed my expectations. Looking into the future, we're looking at things we haven't even talked about yet."
Kip and Kyle both are active advocates for agriculture, getting out and talking to community groups and schools about farming, and talking to other farmers about how they can improve their own operations to make them more sustainable and profitable. "Part of the key of sustainability is getting the message out," said Kip.
Listen to or download my interviews with Kip and Kyle by clicking on the links below:
Kip Tom interview
Kyle Tom interview