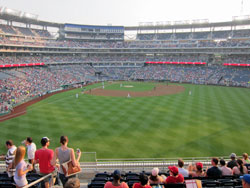 The American Seed Trade Association worked hard all day at their 129th Annual Convention. Then it was time to relax a little. Many members did that by traveling by water taxi to Nationals Park on the Anacostia River for a game this evening. You can find photos in the online photo album.
Tomorrow we get back to work after an early morning Gary Arthur Memorial 5K Fun Run/Walk. Yours truly is going to try to participate. This event is named in honor of Gary Arthur, 2006 ASTA First Vice Chairman "who left this life too soon."
I've got interviews from today to share still and we'll have lots more to come from the ASTA convention during the next several days.