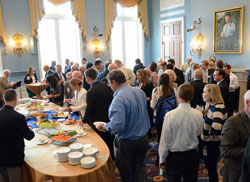 The heat is on in Washington, DC for the members of the American Seed Trade Association. Today was "Storm the Hill" day and members took to the streets to visit their elected officials and talk about issues important to the seed industry. It could not be a better time for the organization to pick this location as the new farm bill is being worked on at both the Senate and House level.
At the end of a day of update sessions and office visits ASTA held a Storm the Hill Reception on Capitol Hill at the House Longworth Bldg. The event was well attended by members of the organization and various Representatives and their staff.
Following this reception members got to head back to the Gaylord National to freshen up before attending the ASTA Welcome Reception which was held at Oxon Hill Manor, a local historical site and beautiful location for some fellowship and relaxation.
You can see photos from all the activities here at the ASTA Convention online: 2012 ASTA Convention Photo Album
Feel free to download and share.