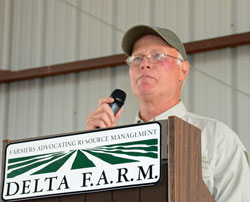 Since Delta region farm runoff makes its way eventually to the Gulf of Mexico, the 2012 Conservation in Action Tour heard from Phil Bass, acting director of the Gulf of Mexico Alliance. This is a partnership started in 2004 by the states of Alabama, Florida, Louisiana, Mississippi and Texas.
Phil says the Alliance has survived ten governor changes which shows that the work it is doing is perceived as vitally important. He says it's the first regional ocean project in the country. One of the things he's proud of is that after the BP oil spill when the company had to fund independent research they turned to the Alliance. He's "tickled to death" at what he's seeing farmers doing in the Delta region.
Listen to my interview with Phil here: Interview with Phil Bass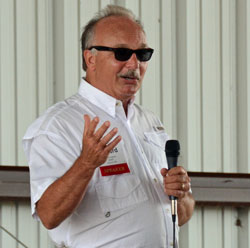 Managing special projects is Richard Ingram's specialty. He does it for the Mississippi Department of Environmental Quality. He supports the Gulf of Mexico Alliance Nutrients Priority Issue Team and co-leads the Nutrient Action 4 Work Group. By now you may be starting to understand how many different organizations there are working on water conservation in this region!
He talked about the action plans created by other organizations like the Gulf of Mexico Alliance and how his department has helped implement them up river. He says that in Mississippi people work together and that's why so many of the speakers on the tour are talking partnerships.
Listen to my interview with Richard here: Interview with Richard Ingram
2012 Conservation in Action Tour Photo Album
AgWired coverage of the CTIC Indian Creek Watershed Field Tour is sponsored by AGROTAIN