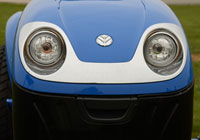 This is the face of a very happy compact tractor.
But don't let its cute little face fool you – this new New Holland Boomer 25 is no toy tractor. "It's a real tractor which does real work," says Dan Valen, New Holland segment marketing manager. "It's only little in terms of its actual size."
The Boomer 20 and 25 are the newest additions to the New Holland compact tractor family, just arriving on the scene in February 2012. The Boomer compact tractors fall under New Holland's RCMU market segment, which Dan jokes could stand for "Really Cool Mowing Unit" but actually is Residential, Commercial, Municipality and Utility. New Holland calls the Boomer 20/25 "the ultimate power tools for homeowners, rural lifestylers, landscapers and hobby farmers." In other words, Tim Taylor would want one of them – or two.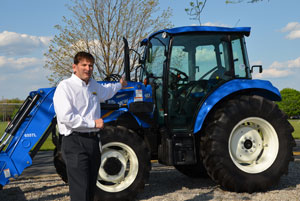 Also falling in this category are the PowerStar™ T4 Series utility tractors. "It was really designed from the ground up with the North American customer in mind," Dan said, noting the innovative features that include the fully integrated loader and high visibility, "so you can actually see what the loader is doing when it's ten feet in the air without being a contortionist."
I got to see just how well that works during the recent New Holland media event. Take a look:
The PowerStar is one of those versatile tractors that appeals across a broad spectrum of market segments – from the RCMU folks to full time farmers and ranchers. By the way, did you know that New Holland is actually a world leader in the specialty tractor business for crops like grapes, citrus, apples and nuts? "New Holland is the only major full line manufacturer to offer a grape harvester," said Dan.
Listen to my interview with Dan here: New Holland's Dan Valen