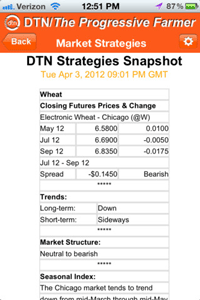 Telvent GIT, S.A., parent company of DTN/The Progressive Farmer, just launched a new Market Strategies app. It is now available via the Apple iTunes Store and Android Market.

The Market Strategies app ensures producers will have the most accurate, real-time data on commodity markets with instant alerts to changes in the market. Unlike other consumer-based applications, the app shares DTN/The Progressive Farmer's industry leading innovative market strategies and recommendations to help producers react to volatile market changes, increasing their profits and reducing input costs.
With the Market Strategies app, producers will receive in-depth information on 15 different commodities, including corn, dairy, soybeans, wheat and even inputs like fuel, feed corn and soybean meal. The app also offers customizable features to create a market advisory plan that meets the unique crop and input needs of each producer, giving them clear marketing and purchasing recommendations to maximize profitability.