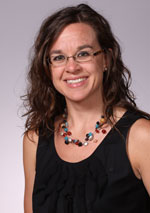 All I can say is congratulations to Mary Geiger who is starting a new phase of her career with the Kansas Department of Agriculture. Mary has been a bright spot in the communications department of the National Cattlemen's Beef Association. (Plus, I dare say, she's much better looking than Mike Deering!) So now what are we going to do Mike? Here are the thoughts he shared with me on Mary's big move.

Bitter-sweet is the term that can best describe the news I have to share today. Associate Director of Communications Mary Geiger will be advancing in her career by serving as the director of communications for the Kansas Department of Agriculture. This is an outstanding opportunity for Mary professionally and personally, as she is afforded an opportunity to be closer to her hometown of Troy, Kan., while also working for the industry she loves.
At the same time, this is a loss for NCBA. Mary has been a determined, go-getter from day one. By leveraging contacts established while working on Capitol Hill, Mary has effectively established NCBA as the go-to source for congressional press secretaries to access the most trusted information regarding the beef cattle industry and policy positions impacting producers. She introduced the concept of tele-townhall meetings, which have been a win for cattlemen and women investing in this organization. Mary has played a significant role in the success of the revamped monthly NCBA membership publication National Cattlemen and she has helped provide content for NCBA's weekly TV show Cattlemen to Cattlemen. Mary never forgets who she works for and has always considered cattle producers as her top priority. Her accomplishments are many and she is a passionate fighter for the industry.
The two-person policy communications team with Mike and Mary in NCBA's Washington office is one of the most effective policy communications teams in Washington D C. I am extremely proud of what Mary contributed to NCBA, the entire U.S. beef cattle community and the important role that she has played on NCBA's communications team.
Please thank Mary for her service at NCBA and join me in congratulating her as she begins an exciting new career. Her last day at NCBA will be May 25.

So, if you think you can fill Mary's shoes at NCBA here's where you can get more information.