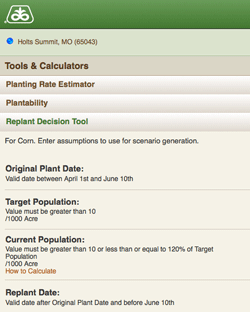 The apps for ag just keep coming. Here's a new one from Pioneer that gives corn growers a way to make a difficult decision on replanting. It's the Replant Calculator.

The tool helps producers decide whether to keep their current stand or replant where their crops have been impacted by weather, pests or other issues.
The calculator is available on Mobile Pioneer.com via the tools section, which can be accessed through the main navigation menu. It takes into account the original date for planting, original stand target and resulting plant population, and the possible replanting date. Growers are asked to consider their own likely replanting seed and input costs. The calculator presents both scenarios, current stand and replant stand, and provides estimates associated with each choice.
The timing of a replant decision means growers could evaluate different aspects of crop production. Early decisions often are based on plant stand and plant distribution. As the season moves on, the calendar becomes the key factor because yields decline with delayed planting. That said, replanting might not necessarily guarantee a grower will achieve the expected yield if the date is delayed enough.
The replant calculator is based on a long-standing chart developed by Dr. Emerson Nafziger of the University of Illinois and widely used across the Corn Belt, which illustrates the effects of planting date and plant population of grain yield for the central Corn Belt. The new calculator also takes into account the current shift to higher populations, as suggested by Pioneer research and data.
Mobile Pioneer.com is optimized for iPhone, iPod Touch, Android, Blackberry and feature phones. It uses technology that provides geography-specific content, reducing the steps required to reach useful information.