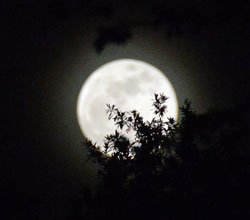 The SuperMoon tonight made me think of these lyrics. Honk if you know the 5th Dimension and remember them.

When the moon is in the Seventh House
And Jupiter aligns with Mars
Then peace will guide the planets
And love will steer the stars

The clouds cleared out just in time for tonight's Cinco de Mayo moon event here in the new home of ZimmComm New Media. If we're friends on Facebook you can find a few more here. If not then I hope you remembered to look.