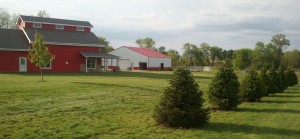 My work is never done around the house. There's always something to be cleaned or fixed or planted or watered. I told my mother this weekend that's all I feel like I do is feed and water things around our house, whether it's the horses, the black kitty, my family, or now our new trees.
They completely transform the front yard: eight pine trees and two maple trees –they're beautiful. We still have landscaping to do, but that was secondary to getting a good stand of grass our first year in the new house. Now, year two is "prettying it up."
The hose and I are getting to know each other well.
Sometime I'll have to show you a photo of the raised garden beds my husband built. I've also recently gotten to know the shovel quite well.
Until we walk again …