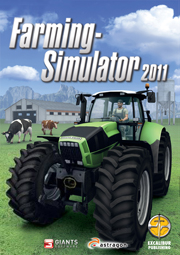 I am not a gamer but that doesn't mean I've never played games. I just don't find the time for it. However, apparently a lot of people do have time. I just noticed an announcement today from a cloud gaming service that you can now play Farming Simulator 2011 on Facebook. For you Farming Simulator players, the company that makes it, Giants Software, says a 2012 Nintendo 3DS demo is now available.

Gaikai Inc., the innovative cloud gaming service, today launches the Beta of its Facebook app which will deliver high-end, console quality game experiences directly to consumers from inside the world's leading social network.
By streaming their games through Gaikai video game publishers can now easily reach hundreds of millions of potential new players in North America and Europe. The beta will allow gamers to try out a selection of games for free.
The first games to try in the Beta v1.0 Launch are:
Saints Row – The Third (USA)
Dead Rising 2 – Off the Record (USA)
Magicka (USA & Europe)
Sniper – Ghost Warrior (USA & Europe)
The Witcher 2 – Assassins of Kings (USA & Europe)
Orcs Must Die! (USA & Europe)
Farming Simulator 2011 (USA & Europe)
Use this link to experience Gaikai's Facebook app: https://apps.facebook.com/gaikai-games/