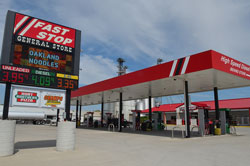 If you want to fill up with E85, get your propane tank refilled, grab some food for your llama and new Muck boots for spring field work, satisfy your sweet tooth with bulk candy, pick up some locally produced noodles and Fluffy Burgers for dinner, enjoy some Champ's chicken for lunch, order a new garage door, and maybe bring your truck around back to the diesel pump – then the Fast Stop General Store in Effingham, Illinois is the place for you.
Operated by South Central FS, the Fast Stop General Store has something for everyone, according to store manager Bryan Dahnke. "We've tried to make this a destination for people, because they can get gas anywhere, they can get a candy bar anywhere, you can't Illinois homegrown products anywhere," Bryan told me when we stopped by the store on a GROWMARK media tour last week.
It is definitely a destination stop. Over 100 locally produced products line the front wall of the store including jellies, jams, salsa, noodles, and candles, with more in the freezer like the Matoon, Illinois trademarked Fluffy Burgers and other local meats. In the feed section you can get food for every animal from dogs and cats, to hogs and cattle, to rabbits and llamas. Along the back wall is the garage door display. "As part of South Central, we own Altamont Overhead Garage Doors, and that's a good business for us," Bryan said. In addition, they have grain handling and diesel truck facilities in the back of the store.
Bryan says the general store concept has worked very well for them. "From year one to year two, we increased about 30-35% in inside sales and about 30% in fuel and this year we're still running about another 15% on fuel sales and another 35% on inside sales," he said.
Listen to an interview with Bryan here and watch a video of the store below: Interview with Bryan Dahnke