At the 2012 Agricultural Relations Council Annual Meeting, the first two members of the newly established Agricultural Public Relations Hall of Fame were inducted. Pictured below are Lyle Orwig, Charleston Orwig, (left) and Don Lerch, retired, with their awards. Before the award ceremony I visited with Don Lerch, who was a founding member of ARC and Paul Weller, Agri/Washington, who was the ARC Executive Secretary once upon a time. I'll share an interview with Lyle in a coming story post.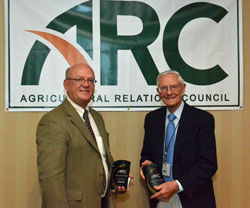 In my conversation with Paul and Don I learned that ARC was founded to combat the very negative publicity that agriculture was receiving after World War II. Sound familiar? Don says it was due to the impact of science and technology on farming and fear and a lack of understanding on the part of the consuming public. So ARC was formed to mount an effort to try and overcome this problem by getting positive and truthful information into the media. In fact, many of the original members were in the media.
I hope you enjoy this conversation since it will give you a really good perspective on not only the Agricultural Relations Council but where we've been in the fight to get a growing non-farm public to understand where their food comes from.
Listen to this week's ZimmCast here: ARC History With Paul & Don
2012 ARC Annual Meeting Photo Album
Thanks to our ZimmCast sponsor, GROWMARK, locally owned, globally strong, for their support.
The ZimmCast is the official weekly podcast of AgWired. Subscribe so you can listen when and where you want. Just go to our Subscribe page.