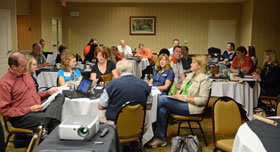 The Agricultural Relations Council held its business meeting this morning. New officers were elected that include:
Mace Thornton, President, Mike Opperman, First vice President, Janice Person, Second Vice President, Rebecca Colnar, Secretary/Treasurer, Deron Johnson, Immediate Past President, Erik Ness, Director, Amy Keith McDonald, Director, Daren R. Williams, Director, Keri Geffert English, Director.
Congratulations to all of them.
The organization is nearing 100 members as it continues to rebuild. If you have not become a member, please take time to fill out the membership form and send it in. The focus is agricultural public relations and I know a lot of you work in that area. Your participation and support would be greatly appreciated!
Next year's ARC Annual Meeting will be in Austin, TX at about this same time of the year. More on that later as plans get made.