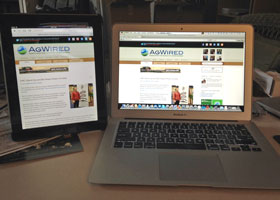 This is not meant to be an exhaustive review of the new iPad. Just a first look. Okay? Hey, I just got it and haven't had a lot of time to "play" with it. In the photo my new iPad is standing next to my Macbook Air. One of the first things I noticed was that the new iPad fits my old iPad 2 cover just fine. My old cover consists of an Apple Smart Cover for the front and a Hypershield Snap On back cover. No need for a new one!
A lot has been said about the new display on the new iPad. Putting it side by side with my iPad 2 it is noticeably different just looking at the home screen and app icons. The colors are richer and looking at some photos I would say they are definitely sharper on the new iPad. It's a beautiful screen. Of course, I thought the same on both the previous versions.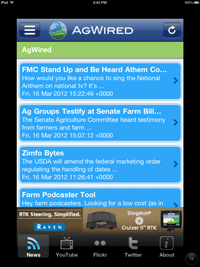 Here's a screenshot from the new iPad with the AgWired App showing using the 2X display feature. Looks good and works fast. My new iPad is wifi only since I carry around two different hot spot making phones. I tried several different apps including Weather Channel, USA Today and others. They all seem to be working just a touch snappier.
The new iPad is noticeable thicker and just a tad heavier. However, it feels extremely solid just like the others and I don't mind the difference. I have been using an Apple wireless keyboard with my other iPads and will do so with this one. It's small enough to keep in a small bag I have when taking it to the coffee shop. When I go on an extended trip my iPad goes in my rolling mobile journalism kit.
I took a couple of quick photos with the new iPad and my iPhone 4S to compare side by side. The new iPad photo is significantly better than my old iPad but not quite as good as the iPhone 4S. Let's call it a major improvement though. I don't shoot a lot of photos with my iPad since my iPhone is kind of like permanently attached to me.
In conclusion, if you don't have an iPad, then get it! If you can upgrade from your original ipad then do it! If you've got an iPad 2 I'd only upgrade if you just want to have the slightly better feature set.