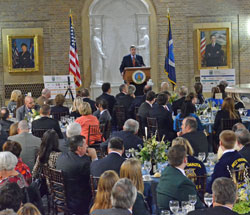 This evening our U.S. Secretary of Agriculture Tom Vilsack, the 30th Secretary, addressed the Celebration of Agriculture Dinner for National Agriculture Day activities. We had a wonderful dinner highlighted by a bone-in Berkshire pork chop. Mmm . . . mmm . . .
I think that we've had a weekly visit with the Secretary each week lately. We saw him in Orlando for the National Ethanol Conference and then again last week at Commodity Classic.
After his remarks Secretary Vilsack visited every table in the room. I think I've got at least one photo from every table during this time. If you're looking for a photo, please look in the online photo album.
Listen to remarks from Secretary Vilsack here: Remarks from Secretary Vilsack
2012 National Agriculture Day Activities Photo Album
Coverage of the 2012 National AgDay Activities is sponsored by the American Seed Trade Association