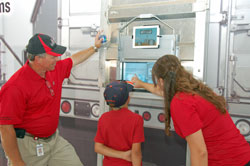 Why pack cases of flyers or brochures to stack in your trade show booth when you can just bring along an iPad to display more information in a multi-media format?
Pioneer Hi-Bred used to bring along more than 50 different product brochures to trade shows. Now they bring an iPad with a company-branded app. Pioneer, along with GROWMARK, worked with Float Mobile on these projects. Here's what they did with GROWMARK.

At the 2011 Farm Progress Show, GROWMARK used an interactive "Yield Maximizer" game to draw attendees to their booth and keep them there longer. It's part of a larger trend that's going on in agribusiness – using innovative mobile technology to showcase products and services in unique ways.
"The FS/GROWMARK System upped its technology ante at the 2011 Farm Progress Show. Our goal at the show is always to engage and share valuable information with the farmers and other interested parties who attend. Making use of iPad-powered games that attracted attention, entertained show-goers, and conveyed information about our strong and diverse product lines was very effective," said Ann Kafer, GROWMARK's director of communications and marketing services. "We also debuted cropNAtion.com at the show and signed up those wanting to participate in the new social media platform for information about crop production across the country — farmer to farmer."