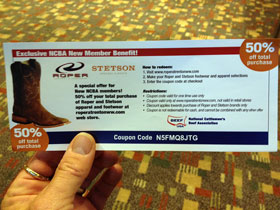 If you're a Roper/Stetson fan and having trouble finding the cash to buy some new boots or a hat then becoming a member of the National Cattlemen's Beef Association (NCBA) might be just the ticket (or coupon). Here in my hot little hand is a 50 percent off, one time only coupon for an online order at the Renton Western Wear (Roper/Stetson) website. This new membership benefit announcement was made yesterday.

NCBA is excited to offer its members an outstanding new opportunity through an exclusive partnership with Roper and Stetson. Under the partnership, new and existing NCBA members will receive significant discounts on Roper and Stetson apparel and footwear.
Anyone who joins NCBA will receive a 50 percent off coupon for Roper and Stetson apparel and current members will receive quarterly 25 percent off coupons through the National Cattlemen publication. Additionally, participants who pay a full registration at the 2012 Cattle Industry Convention and NCBA Trade Show will receive a Roper and Stetson coupon to use at the trade show. NCBA Vice President of Membership and Association Marketing Marvin Kokes said the partnership showcases the organization's outstanding reputation and commitment to its membership.
"Our most important partner in the development of our association is our members," Kokes said. "The partnership with Roper and Stetson allows our members to benefit from their commitment to our association and entices new members to get involved with NCBA."