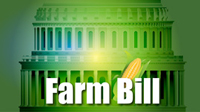 The National Corn Growers Association has officially unveiled its idea for a new disaster assistance title in the next farm bill.
NCGA is proposing the Agriculture Disaster Assistance Program (ADAP) "that will modify and replace the existing Average Crop Revenue Election Program and provide a more effective and responsive safety net for growers."
"Responding to a charge by our voting delegates to investigate transitioning direct payments into programs that allow producers the ability to mitigate risk, our grower-led Public Policy Action Team developed a crop-specific, revenue-based risk management tool that provides a safety net when growers are facing a loss," said NCGA President Bart Schott. "We are focusing on simplification and faster delivery of assistance when it is needed."
ADAP builds on the existing structure of ACRE and is designed to address the need for simplification and elimination of overlapping coverage with individual crop insurance. Changes include the use of harvest prices and crop reporting districts to set the crop revenue guarantee and would establish a guarantee based on the five-year Olympic average of revenue.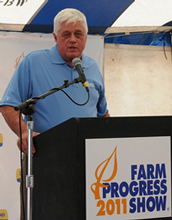 I talked to NCGA first vice president Garry Niemeyer at the Farm Progress Show about what they want to see in a new farm bill. "We're really interested in a farm bill that provides critical assistance to farmers when they face a loss due to adverse weather, crop diseases and volatile markets," Garry said, adding that the NCGA team was working on ways to upgrade ACRE. "Since that is part of what we started a year ago, get it fine tuned, and get an ACRE program that will work."
I posted my interview with Garry earlier, but you can listen to or download it again here. NCGA 1st VP Garry Niemeyer