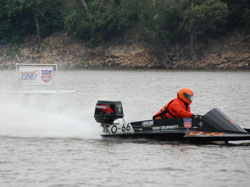 Whoever says that ethanol hurts marine engines has never seen boats running at more than 80 miles an hour on E-10.
Boat racers from coast to coast gathered this past weekend in the ethanol-producing town of Garnett, Kansas for the National Boat Racing Association (NBRA) "Garnett Ethanol Hydroplane Nationals." The Renewable Fuels Association (RFA) partnered with NBRA earlier this year to help dispel concerns about the use of ethanol fuel in boat engines. The partnership includes the use of the RFA "Fueled with Pride" logo on signage around the racing events, as well as on all the racing boats and haulers.
See more photos from the race here: NBRA Ethanol Boat Race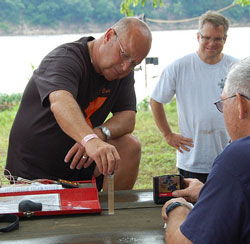 All of the boats that race in NBRA competitions around the country this year have to prove they are using 10 percent ethanol fuel in order to be eligible for additional prize money in the race. "We test all the fuel before the race and then the top three entries in any class are tested when they come in to make sure they are running ethanol," said NBRA president Dan Crummett – yes, the same Dan Crummett who might be better known to the Agwired audience as Executive Editor for Farm Progress Companies.
The NBRA races include a number of different classes of hydroplanes and runabouts with stock and modified outboards that run as fast as 96 miles per hour. Crummett says most of the issues that boaters experience when using ethanol-blended fuel can be addressed with better maintenance. "Any fuel will degrade over not a long period of time once the oil is mixed in it," he says, which is why it's so important for boaters to avoid leaving fuel set n the tank for an extended time.
Listen to my interview with Dan Crummett here: NBRA President Dan Crummett
Each race in each class is just three laps around a relatively small course – but really, really fast! Take a look in the video below: