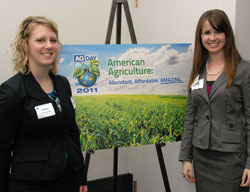 The National FFA isn't the only agricultural youth education organization involved with Ag Day. I visited with several more this week starting with Jessica England, President (left) and Lauren Greaves, First Vice President, Agricultural Communicators of Tomorrow. I learned that you pronounce it A-C-T to start off! This college level student organization promotes leadership with agricultural communications majors. They were attending Ag Day activities because they wanted to help make sure elected leaders in the Capitol were aware of how important the industry of agriculture is. We also talked about different activities conducted by ACT like their annual meeting that's held in conjunction with the Ag Media Summit.
You can listen to my interview with Jessica and Lauren here: ACT Interview
Another organization represented at National Ag Day was 4-H. I spoke with Brad Copenhaver, Virginia Tech, who has been active in 4-H for many years. He says his Grandmother has been a 4-H volunteer for over 50 years! He started with 4-H when he was nine years old. He served on his state 4-H cabinet and is still involved. He was asked to be a 4-H representative at National Ag Day activities to help promote how important agricultural education is.
You can listen to my interview with Brad here: 4-H Interview
And I also spoke with Nancy Barcus, Agriculture Future of America. Nancy is the Director of Leader Development Programs. She says that AFA works with college men and women who are preparing for a career in agriculture with leadership programs that help them become more competitive. There were twenty five student members attending Ag Day activities. She says that their attendance helps them understand how policy affects agriculture.
You can listen to my interview with Nancy here: AFA Interview
2011 National Ag Day Photo Album
AgWired coverage of National Ag Day is sponsored by:


and

and