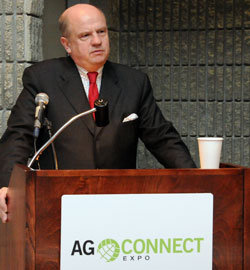 The chairman of the management committee for AG CONNECT Expo is Martin Richenhagen, AGCO President/CEO. I spoke with him about this year's show which is now winding down to its last hour.
Martin said that one of the differences for this show from last year was having a lot more visitors and he credits having other organizations holding their meetings at the same time with helping. He says the location was very desirable for exhibitors. They use the show to hold their own meetings with dealers and customers. He says they want the show to attract big growers who are looking to invest. He also makes a point about how the show is put on by a non-profit organization, the Association of Equipment Manufacturers. Martin also talks about the relationship with AgriTechnica, the largest European show, and says they have even invested in AG CONNECT Expo. Beginning now the two shows will run in off set years.
You can listen to my interview with Martin here: Interview With Martin Richenhagen
I have several more interviews to post from AG CONNECT Expo but am transitioning over to the AFBF Annual Meeting so I'll see you from there. Our show photo album is now complete. I hope you enjoy them.