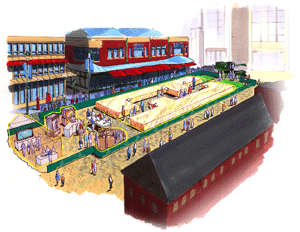 If you can't take policy makers to the field then take the field to the policy makers.

On Thursday, September 23rd and Friday, September 24th a live wheat field, approximately one quarter of an acre in size, will sprout from the streets of the nation's capital in an effort to promote food literacy via farm-to-fork wheat education. The North Dakota Wheat Commission along with fellow members of the nation's wheat industry will unite to deliver an authentic experience to city dwellers and key influencers during the Wheat Foods Council's second Urban Wheat Field. The event will take place on Maryland Avenue between 3rd and 4th streets.
Coming off the success and excitement of New York's Urban Wheat Field in 2008, the Wheat Foods Council is looking forward to strengthening their message and enhancing the experience at the Washington, D.C. event.
Experts in the areas of wheat agriculture, milling, baking and nutrition will guide visitors through each phase of the grain's life cycle, engaging them in hands-on activities and demonstrations along the way. "This is a great opportunity to reach the urban population who may not be familiar with the agriculture industry or completely understand where their food comes from. They will be able to see the farm-to-fork process firsthand," said Erica Olson, North Dakota Wheat Commission marketing specialist. The wheat on display is a hard red spring wheat variety grown in the Northern Plains.
Preceding the event, the National Association of Wheat Growers will host a reception for congressional staff members to experience the event and meet with representatives from their individual state wheat commissions.