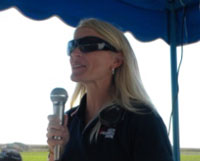 The media got a sneak peek this week at what we can expect at the 2010 Farm Progress Show when it officially gets underway on Tuesday in Boone, Iowa. Our roving reporter and New Holland representative Gene Hemphill was kind enough to send us a couple of photos from the event. New Holland is once again the sponsor of the media tent at FPS, something Gene has taken care of for years and which the media sincerely appreciates!
Dena Morgan, Farm Progress national shows marketing specialist, told the media about many changes made this year that longtime attendees will notice and appreciate – things like improved traffic control, new web cams, hand sanitizer stations, and more.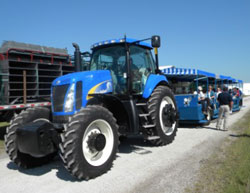 The media day is an opportunity for reporters to get a feel for the show site ahead of the big event. Riding in a tram pulled by (what else?) a New Holland tractor, the media checked out several highlights around the site including the field demonstration plots, the locations of the web cams, the cattle handling location, the hospitality tent, the Iowa State University exhibit, and Big Bud.
Chuck and Joanna will be the ZimmComm bloggers on site at FPS 2010 this year, with coverage provided here on Agwired and on Precision Pays, as well as other websites as appropriate. New Holland will once again be the main sponsor of our coverage here on Agwired, with other sponsors here and on Precision Pays including AgLeader Technologies, John Deere, and Pioneer.