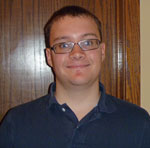 Zachary Larson, Borlaug Summer Intern, is on location at Nanjing Agricultural University and providing us with updates this summer of his trip. Here's his latest. You can also find a photo album he's got started here: Borlaug Summer Intern Photo Album. The internship is being sponsored by the Iowa State University Plant Sciences Institute.
I predicted correctly that this last week would have been fun, and has been, if not for a just a bit crazy. While I am still frequently going to the lab, but the time to run experiments is quickly disappearing, and these last few days have allowed me more opportunities to see the city of Nanjing, meet a few interesting professors and see some of the history of Nanjing Agricultural University.
I faced the biggest challenge I have faced since arriving here last Saturday when I gave a presentation about my university life in the U.S, my general studies, and life in Iowa. Unlike most of my previous power points, the focus of this one was extremely broad. Nonetheless, I had a very liberal audience, and despite my numerous slips throughout my presentation, they all thought I did an excellent job, and I might give another presentation before I leave on Saturday. As always, I thought I did ok, but in hindsight I could of always done better, Given the fact my Professor Wang ordered me to do the presentation in English, it mattered little nonetheless!
I will probably look back on the presentation as a culmination of my trip here, but given that I am still in the lab, it is still hard to imagine seven weeks have already flown by so quickly, and my attention has slowly more and more come back to focus on ISU. On this regard, I finally met the researcher Dr. Song, who earlier helped me find the internship position in Nanjing Agricultural University while she was working at Iowa State this past year. The funny part to meeting her was that while i had been aware of who she was, I had never actually met her at Iowa State. So, it wasn't until this last weekend did she have the courage to confront me and ask if "I was from Ames"? It is one of the stranger ways I have finally been able to get in contact with someone, but nonetheless it was nice to be able to finally talk to her and understand how the Plant Science Institute was able to post me in Professor Wang's lab. It is amazing the level of personal communications that can happen on this international of level, and even more amazing was that even though I wasn't entirely clear before, these personal connections between Nanjing and Iowa State were what allowed me to come here.
Eight weeks into the internship, and I have still just learned why I was able to come here! While there is a tendency to be over dramatic, I don't want to under emphasize that the amount of knowledge that I have gained from this trip is tremendous, and that I when I return to the U.S I will spend many more months thinking back upon this trip. I have already experienced a good amount of lab work, improved my understanding of Chinese, and certainly a bit of agricultural research. My time here in Nanjing is rapidly shortening (just four days left), but I grateful for the time that i have had, and I will make the best of the time that I have left!