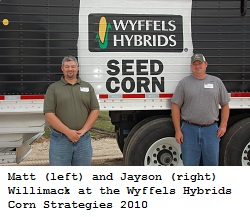 One of the great things at the Wyffels Hybrids Corn Strategies 2010 meeting in Malcom, Iowa is the opportunity farmers are getting to talk to each other, as well as hearing from the experts on the agenda. It's even better when family farmers are able to get together.
I caught up with a pair of brothers, Jayson and Matt Willimack, who row crop corn and soybeans with their two other brothers and Dad between Oxford Junction and De Witt in Eastern Iowa. They appreciated the fact that this meeting is being held on the Cummings' family farm near Malcom, Iowa.
"It's a great environment," says Matt. "Look in the background and you've got Marty Cummings' bins set up, and it's stellar looking. It's a great feel rather than a conference at a hotel."
And Jayson points out what a great networking tool this place is. "You get to meet farmers from all over the state of Iowa and talk to them in a no pressure situation."

Both Matt and Jayson say it has been a great meeting with some quality speakers who gave them some great insight into where the future growth in the corn industry will be.
You can hear or download more of my conversation with Matt and Jayson here: Jayson and Matt Willimack