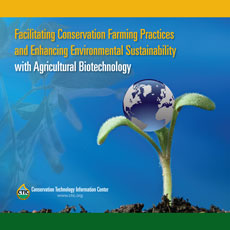 The Conservation Technology Information Center has just released a new report dealing with the "S" word. That would be sustainability and it's no surprise that agricultural biotechnology will play a key role in this issue as farmers work to feed a growing world population. You can find an executive summary here.

Keeping agriculture environmentally sustainable while improving productivity is a growing challenge, and a new report shows that agricultural biotechnology is a key tool in overcoming it.
Biotech crops help growers around the world increase yields, improve crop quality and characteristics, and adopt sustainable farming practices such as conservation tillage — all vital to keeping up with the world's growing demand for food, feed, fuel and fiber.
The booklet — "Facilitating Conservation Farming Practices and Enhancing Environmental Sustainability with Agricultural Biotechnology" — was developed by the Conservation Technology Information Center (CTIC) to dig deep into the data surrounding the adoption of biotech crops.

Among many important statistics, the document describes:
The projected growth of the global population to 9 billion by 2040;
The 69-percent increase in no-till farming since the 1996 introduction of herbicide-resistant crops;
A drop in herbicide usage of 47.4 million pounds of active ingredient where herbicide-tolerant soybeans or cotton were planted in the U.S. in 2007;
The replacement of 8.67 million pounds of insecticide active ingredient in 2007 where U.S. growers planted insect-resistant cotton and corn varieties;
Reductions in soil loss of 90 percent or more, and reduced movement of phosphorus by more than 70 percent where no-till is used;
The capture of billions of pounds of greenhouse gases from the atmosphere in conservation-tilled soils across the U.S.
The new document is the latest in a vast library created by CTIC throughout its 25-year history as a repository for information on conservation farming practices.