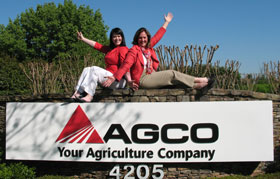 You learn things at a NAMA convention. I ran into Sue Otten, AGCO, and learned that they now have a blog.
Could Sue (right) and Jamy Johnson look happier over the fact that they're now blogging for AGCO?

I'm Sue and we're thrilled to launch AGCO's blog. Agriculture is a strong community-oriented industry and a perfect fit for social media. Farmers are not competitive, but quick to help each other. I have early memories of lots of neighbors helping build our cattle shed. Today's Facebook-YouTube-Blogger sites are becoming the modern-day equivalent of helping neighbors. Farmers visiting these sites help extend agriculture knowledge across the worldwide landscape, offering a helping hand of advice, information, pictures, comments, experiences to global neighbors.