2010 National Farm Machinery Show Photo Album

One of the best parts of the National Farm Machinery Show in Louisville, Ky. is the cutting-edge technology you see in just about every booth along the way. Companies obviously know this gathering is the perfect place to show off what they've got and time the release of many products to coincide with the show. So when we got this press release from TeeJet Technologies about its new New ISOBUS Sprayer Control Solutions, it made a bee line to the TeeJet booth where I met Jon Reinecker, one of the company's technology specialists.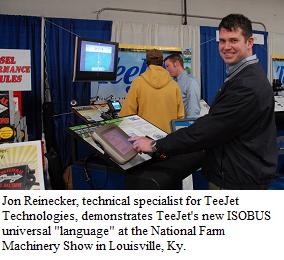 He told me that ISOBUS gives farmers the ability to communicate with other virtual terminals already in the cabs of their tractors.
"A lot of farmers are buying these newer implements that have these newer displays, and they say 'Why can't I hook my implement up to that new display?' Think of ISOBUS as a universal language everybody can understand."
Reinecker says the display in the cab can communicate with, say, a sprayer or spreader hooked up to the back of the tractor. That lets farmers make adjustments right there in the cab without having to have different boxes that clutter the area.
"Manufacturers like the idea of being able to work together, and it keeps the farmer happy [because] he can mix and match implements with the different tractors using this universal language," says Reinecker.
One black box in the cab serves as the brains of the operation and connects with the universal connector on the back of most new farm machines, making it compatible with many makes and models without having to add more consoles to the cabs.
More information is available at TeeJet.com
Listen to more of my conversation with Jon below.
AgWired continuing coverage at the National Farm Machinery Show sponsored by: