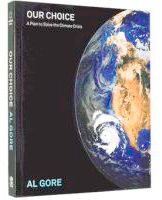 "Producing first generation ethanol from corn is a mistake," writes Al Gore in his new book, "Our Choice A Plan to Solve the Climate Crisis." The book details the issues surrounding global warming, and presents various options to curb the issue. As a writer in the agricultural industry, I paid extra attention to the chapter regarding biofuels. It came as no surprise that corn ethanol was not presented favorably.
Gore writes, "The production of ethanol in first generation biorefineries has been a disappointment. However, it has had the benefit of increasing income for farmers and has led to the emergence of an infrastructure that will prove highly valuable when second generation technologies are available to produce ethanol from nonfood crops." He goes on to discuss his personal disappointment with his early support of corn-based ethanol and then continues to lay out the case for second and third generation fuels including cellulosic ethanol.
The industry hasn't taken the criticism lying down. Bob Dinneen, the president of the Renewable Fuels Association sent a letter to Al Gore stating, "Given your attention to science and the facts, I am disappointed by the treatment of ethanol and other biofuels in your new book, Our Choice. Many of your characterizations of today's American ethanol industry are out of date or simply wrong."
Biofuels aside, throughout the book, Gore uses a combination of words, graphics and pictures to demonstrate the climate change debate, detail many of the solutions and offer policy recommendations. There is one area where I think Gore did a great job, and that is explaining what the six categories of global warming pollution are: carbon dioxide, methane, black carbon, sulfur hexaflouride, tetrafluoroethane, carbon monoxide, butane and nitrous oxide. To date, the biggest focus has been on carbon dioxide and Gore's focus throughout the book is no different.
No matter what side you are on in the global warming debate, Our Choice will give you a platform for futher disucssions on how best to create programs and policies to address global warming.