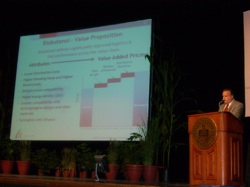 Attendees of the International Farm Management Association 17 Congress were witness to a very optimistic view of the future of renewable energy.
Dennis Magyar, a renewable energy industry leader with North American DuPont Biofuels, gave an insightful presentation on the future of bio fuels and bio fuel technologies. The presentation began discussing the desire for energy independence, establishing the importance of the future on renewable energy.
Magyar introduced DuPont's role in the renewable energy industry along with the company's latest goal and developments. Magyar expressed DuPont's desire "to explore carbohydrate based businesses opportunities."
The three main focuses included sustainable feedstock, cellulosic ethanol and advanced biofuels. DuPont is working to provide the means for a more sustainable feedstock by continuing to invest in seed and chemical development.
Their Pioneer seed corn brand has been a main focal point attempting to create hybrids that are more resilient to all adverse variables, higher yielding and higher profits for producers. Continuing to develop production of their seed corn is contributing to the goal of more bushels per acre and more ethanol per bushel.

Another main focus was their involvement in cellulosic ethanol production. Magyar spoke of the company's plans to open a cob and switch grass ethanol plant. DuPont is beginning construction on new facilities with the intentions to be operating in the near future. He suggested that both the efficiency and profitability of cellulosic ethanol production is on the rise.
The last subject of the presentation brought fourth some interesting possibilities about the future of renewable energy. Biobutanol, which Magyar spoke of as an advanced biofuel, has demonstrated intriguing characteristics. Biobutanol is processed similar to cellulosic ethanol, but uses much less water. Its energy content is very similar to gasoline has already surpassed the ethanol blend percentage of 10 percent, which is at a 16 percent blending ratio.
A term referred to as the "blending wall" is the limit that is put on ethanol demand due to the fact that regulations only allow so much to be blended with gasoline. With biobutanol the demand for bio energy could easily be increased due to the increase in the blending ratio.
Magyar stated that the conversion of ethanol plants to biobutanol plants would be simple, along with the fact that no change to the infrastructure including transportation, and gas stations. Over 1.3 million miles have been driven with biobutanol powered engines and research suggests that there are no detrimental effects to the vehicles that use it.
AgWired coverage of the IFMA 17 is made possible by