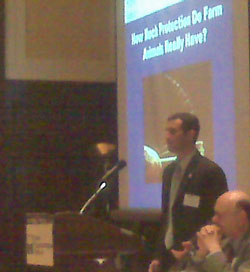 Here's Paul Shapiro, Senior Director of the Humane Society of the United States, speaking now at the Farm Foundation Forum on animal welfare. Thanks again to Mace Thornton's Blackberry.
Here's a couple new tweets from him (@AFBFMace):

HSUS Shapiro @ FF farm anim forum: civil discourse essntl. All agree animals protected by law to some degree…dog and cock fight etc.
HSUS Shapiro selectively quotes the research AFBF sponsored with Oklahoma State Univ. @ FF forum on farm animal care. So much more there.
HSUS Shapiro also quotes Pew Comm. And Temple Grandin and cites pork companies to phase out gest. stalls.
HSUS Shapiro @ FF forum on farm animls: Main Pt. — animals being able to turn round and spread limbs should be a common ground issue.
HSUS Shapiro @ FF farm anml forum. American public sees images of animals in cages and thinks worse of ag because of it