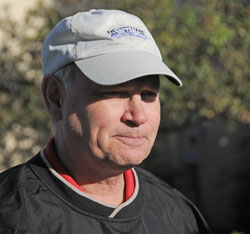 The 2009 National Ethanol Conference got started this morning with a golf tournament and welcome from Renewable Fuels Association Chairman, Chris Standlee, Agengoa Bioenergy Corporation. Cindy and I will be covering the event courtesy of the RFA. We'll also be posting content onto The Ethanol Report site for them.
Most of our coverage will appear on Domestic Fuel which just got a whole new look as of this morning. I hope you like the new theme.
Let's get back to Chris. He's expecting this to be a great conference and said that not only are we in oil country but that there are more attendees this year from the oil business than usual. Chris says that he's very optimistic about the health of the ethanol industry even in light of the challenging year we just completed.
You can listen to my interview with Chris here: nec-09-standlee.mp3
Keep an eye on our: National Ethanol Conference Photo Album