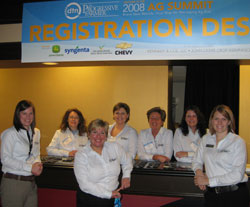 After today's BI PRRS Foundations Seminar I went upstairs at the Marriott to the DTN/The Progressive Farmer 2008 Ag Summit. After all they're our sponsor. So before I left to the airport I visited with a number of my DTN friends including Adrian Blake, Publisher, who will be the subject of tomorrow's ZimmCast.
Here are the friendly faces of the girls of DTN/The Progressive Farmer. Actually, professional women! According to Adrian they doubled the attendance at this year's Summit. You can learn all about it tomorrow.
I've also got a number of posts to do still from the BI event so look for more on PRRS too.