I just received this story from Laura who visited Honduras recently and is back there now. Her trip was made possible by the Honduras Foundation for Investment and Export Development.

Here's a novel idea when running a business that manages more than a thousand employees: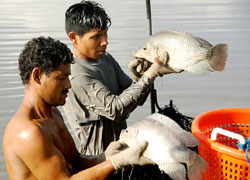 "We try to do basically everything to make them feel they are like partners not workers. Everybody is on bonus system, everyone can basically gain more from the company's success, so everybody feels like it's their project. That's the kind of environment we like to maintain here with our people."
Those partners Yedod Snir is referring to are the 1,350 locals that make up the direct workforce of Aquafinca St. Peter Fish, a Tilapia producer based out of San Francisco de Yojoa, Honduras. Yedod is Aquafinca's production manager.
You can listen to my interview with Yedod here: yedod-snir1.mp3
Central America is a hot spot for cheap labor and, sadly, greedy businesses that cruelly exploit their workers. But, on a trip hosted by FIDE, Honduras' Foundation for Investment and Development, I, along with a small group of other ag journalists got to tour and learn about businesses based in Honduras who lead with impressive example. Among those model operations we toured, Aquafinca St. Peter Fish stood out from the rest as a world-class facility. In fact, one well-seasoned ag reporter with our group, who wished to remain unnamed, confidently asserted that Aquafinca would put similar production and packaging facilities in America to shame. Certain exemplary standards at Aquafinca, he said, are simply unheard of in the U.S.

"I'd put this facility in the top one or two percent in the world," the reporter said during the tour. "In the U.S., big boxes [of raw goods] would be sitting for 10 to 15 minutes before they were moved. Here everything is moving through steadily. Nothing is sitting."
The plant is cutting, gutting, flaying and filleting raw fish, yet, as workers bustled around us constantly sweeping up fish scraps from the floor, the reporter said it's the cleanest food plant he's ever toured.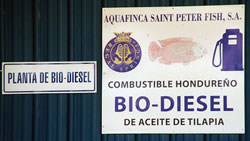 In order to tour the plant, where 700 workers were handling raw fish, we had to cover ourselves from head to foot with special gear. Hair caps, special jackets, special pants, face masks and big rubber boots. Before entering a room, we had to thoroughly wash and sanitize our hands twice as well as dunk our boots in troughs of sanitizing liquid. When we left a room, we were instructed to repeat the hand-boot procedure.
Outside the plant, Aquafinca uses its Tilapia farms, a natural lake – Lago de Yojoa – and a manmade lake – Embalse el Cajon – to ultimately produce 90 tons of fresh fish each day. That's 32,850 tons, or 65.7 million pounds, each year. Yedod says Aquafinca ships 1.4 millions tons to the U.S. each month under the name Regal Springs. He says Aquafinca is the largest exporter of Tilapia in the world.
The operation Aquafinca runs is tight one, a clean one, and a hugely successful one. But, even though Yedod estimates that the company earns between $35 million and $40 million in gross revenue each year, he says Aquafinca's priority is not fish:
"We have a saying: It's not about the fish. It's about the people," Yedod said.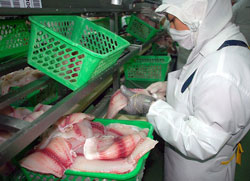 Yedod says Aquafinca values its workers as the most important component of its business. If a company wants to produce an excellent product, he says, it should treat its workers with excellence. It's safe to say, even the most scrutinizing critic would applaud the vast array of programs and benefits Aquafinca says it offers natives. Yedod says the company offers the highest salaries in the area and subsidizes 55 to 100 percent of food for its workers and their families. Aquafinca offers education through its own school. With a psychologist and two doctors on staff, four health clinics offer workers and their families free medical attention, medicine and social aid. The company has its own bank where it gives employees higher interest rates on savings accounts and lower interest rates on loans as compared to other banks in Honduras.
Locals who want to start their own Tilapia farms are not only encouraged, but offered free assistance and expertise. Aquafinca will also help finance feed for their fish. Yedod says raising Tilapia is good for small, rural areas and is an industry that has great potential to help Honduras move away from poverty. Aquafinca, he says, helps interested locals get what they need, helps them grow their fish and offers locals technical assistance. The company will then buy their produce and process it.
Yedod says its people aren't the only thing of capital importance to the company though. He says Aquafinca takes special care to protect the environment and lead a sustainable operation. The company says it funds various educational and sustainable projects around the two large lakes it operates on – Lago de Yojoa and Embalse el Cajon. Yedod says Aquafinca leaves a zero impact on both lakes. He adds that it's important to teach locals in the area to have the same care for their natural resources in order to maintain the quality of their produce. Aquafinca also uses leftover scraps and skins to produce fish feed, fish oil and biodiesel. The company uses the biodiesel it produces to fuel its operation and is 100 percent self-energy sufficient.