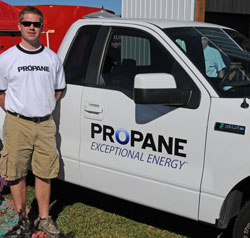 The Roush Ford F-150 on display at the Ohio Propane Gas Association exhibit here at the Farm Science Review is the big draw. With high diesel prices it's easy to understand why.
On hand to talk about it is Roush Vehicle Marketing Coordinator, Taylor Bloor. He drove the vehicle down from Michigan. It's a bright white truck that runs on liquid propane injection. He says you can go to any Ford dealer to order one. Basically, you buy the truck then have Roush customize it for you or you can order a kit to do it yourself.
The vehicles cost more upfront because of the fuel conversion but you make up for it he says in lower fuel costs. For example, at current prices, if you drive 15,000 miles per year you'll make back the cost in 4 years. If you drive 30,000 miles/year it would only take two. The fuel is much cleaner burning and helps reduce our dependence on foreign oil.
I had Taylor take us on a video tour of the truck which you can watch here:
You can also listen to the tour of the truck here: fsr-08-bloor.mp3
Farm Science Review Photo Album
AgWired coverage of the Farm Science Review is being sponsored by Monsanto and the Propane Research and Education Council.