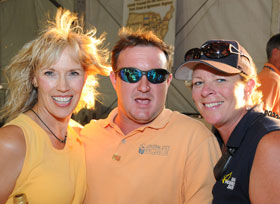 I have a lot of photos from the Farm Progress Show that I really like. Of course, taking them with my new Nikon D300 is a big part of why I like taking them. Laura and I have almost 400 in the photo album so far. I think she's still got some to add to it.
This is one of my favorites though. It was just one of those instantaneous opportunities. What do you think? It's in the album if you want a bigger version.
I know Susie Decker on the right but I didn't get the names of the movie stars to her left. Anyone know? If so, please post in comments. Thanks.
BTW. All of the Farm Progress Show staff, like Susie-Q here, were extremely helpful and always smiling and happy. How do they do it?
Check out our Farm Progress Show 2008 Photo Album.
AgWired coverage of the 2008 Farm Progress Show
is sponsored by:

and