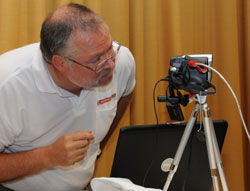 The Swinecaster is on location with me here at the BI Swine Health Seminar.
Ned Arthur is not only a master of audio production and farm podcasting but he's also fully equipped to record video. See, it's not just the "young" people who are using these new media tools. One of the producers here noticed that we do some similar types of things and wondered if Ned is my mentor since as he put it, "Ned looks like he might be your Grandad." He said it, I didn't.
Ned is recording the speakers and utilizes the video/audio along with their slide presentations on Swinecast.