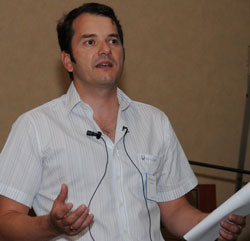 Our emcee for today's Boehringer Ingelheim Swine Seminar is Dr. Stephan Lange, Director of the Swine Division. He oversees sales and marketing.
I asked him what he thinks of this conference. "I think it's crucial these days to share knowledge and insure that what we know and what the producer knows is kind of aligned." He says that besides the speakers on the program there's plenty of time for Q&A and direct interaction with producers so that BI gets feedback they need.
The main thing he'd like producers to take away from this seminar is how important it is to keep animal health under control in light of high input costs. "Those who survive will be the ones having their animal health under control." He says that using vaccines will get you a lot further with what you get out of your feed. In other, words, prevention is the best medicine for getting the most out of your feed.
You can listen to Dr. Lange's opening remarks here: bi-nc-08-lange-open.mp3
You can listen to my interview with Dr. Lange here: bi-nc-08-lange.mp3