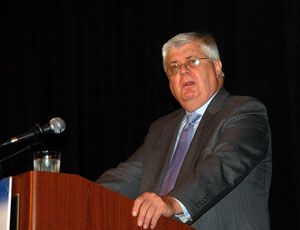 Agriculture is an industry in Africa that's poised to flourish… if the U.S. would simply get involved. That's what the Corporate Council on Africa believes and that's why it's hosting the
2008 U.S. Africa Agribusiness Forum in partnership with the World Trade Center Illinois.
CCA President and CEO Stephen Hayes says his organization has been the voice for the vision of American and African commerce for 15 years. Often times, Stephens says, his organization has been the lone voice. Established in 1993, the CCA now consists of 180 major corporations that represent more than 85 percent of all U.S. foreign direct investment in Africa. But, Stephen explains, the CCA is not just made up of large corporations. A third of the companies involved with the CCA are small businesses involved in Africa.
Now, Stephen says, its time for America and Africa to work together in developing and modernizing the agricultural sector within Africa.
Stephen's opening remarks officially kicked off the activities of the first U.S. Africa Agribusiness Forum. You can listen to Stephen's introduction here:
usafag-08-hayes.mp3
2008 U.S. Africa Agribusiness Photo Album
AgWired coverage of the 2008 U.S. Africa Agribusiness Forum is sponsored by: