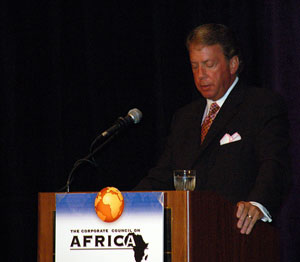 The CME Group claims to have ideas that change the world. And, that's precisely what CME Group Vice Chairman Terrence Duffy says the 2008 U.S. Africa Agribusiness Forum is helping to facilitate: ideas that are changing the world.
The CME Group is a combined exchange entity formed from the 1997 merger of the Chicago Board of Trade and the Chicago Mercantile Exchange. Terrence spoke at the forum introduction this morning in Chicago, discussing how to shape the future of African Agribusiness.
"This venue provides an important opportunity to discuss the forces that are reshaping the development of ag markets around the world including in Africa," Terrence said.
Terrence reminded attendees that increased demand for food at a time when food is in limited supply is pushing up world commodity prices. And that, he said, highlights a global need.
"Higher commodity prices are telling us one important thing: the world needs more food," Terrence said.

Calling for investment, innovation and infrastructure, Terrence stressed his belief that despite marked challenges in the African agricultural industry, there are tremendous opportunities to develop the continent's ag community and bring it to a global level.
Last year, agriculture generated one third of Africa's gross domestic product, yet, Terrence pointed out that Africa is a net importer of agricultural commodities. Terrence says Africa needs to develop local markets and gain access to global markets. He adds that now is one of the most exciting times to be involved in agriculture. But, he says, the U.S. and Africa need to work together to improve the agricultural industry on a global level.
"At a time when the world needs more from agriculture, we need africa to reach its potential and become a partner in the global commodity production," Terrence said.
You can listen to Terrence's opening remarks here:
usafag-08-duffy.mp3
2008 U.S. Africa Agribusiness Photo Album
AgWired coverage of the 2008 U.S. Africa Agribusiness Forum is sponsored by: