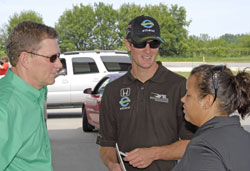 Pioneer Hi-Bred is sponsoring the Iowa Corn Indy 250 again this year and I spoke to Russ Sanders, Marketing Director, about how the company is involved. He's pictured here (left) with Team Ethanol driver, Ryan Hunter-Reay and EPIC Director of Communications, Joanna Schroeder.
Russ says that the company sees a great opportunity in the biofuels arena and their participation in this race provides them with a great opportunity to get the message out about the positive benefits of a fuel like ethanol.
You can listen to my interview with Russ here: iowa-08-sanders.mp3
Or watch it on this video:
Iowa Corn Indy 250 Photo Album
I'll be out at the track today and through the weekend following along with EPIC and finding the ag angle to the most exciting racing there is.