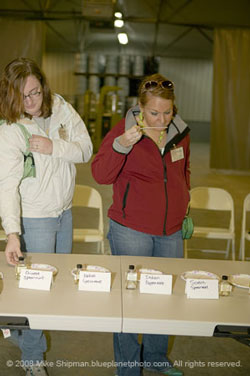 The Livestock Publications Council just held a design and writing workshop in Boise, ID. Wish I could have been there Diane.

The first ever LPC design and writing workshop held west of the Rocky Mountains was held May 28-29 in Boise,Idaho. And for those who made the effort to get there certainly got their money's worth. The speakers were exceptional and the attendees got to really dig in with their questions which turned it in to a very personalized experience for everyone. The tours on Wednesday included a mint farm and distillery and a fascinating tour of the Amalgamated Sugar Company where they process sugar beets and turn them in to sugar products. The day culminated with tours of a local distillery that makes potato vodka and fruit brandies followed by a delightful evening outside at Bitner Vineyard where we were treated to a tri-tip beef dinner and other Idaho products including Idaho potatoes.
A huge thanks goes to committee chairman Maggie Malson. Maggie is the editor of the Line Rider and News Brief (Idaho Cattleman's Assn.) and is a past student travel winner for LPC. She took on this project on her own to bring attention to the Northwest and also as a service to LPC members (and potential members) located in the Northwest. She also wanted us to see the beauty of Idaho and that we did! Let's just say that she went over the top in getting this task done and for those who took advantage of the workshop were not disappointed. Also credit must go to Kelli Toledo,Trailhead Designs,who created the promotional materials. Kelli is one busy gal,but took time to help us out with her incredible design talent. Thank you Kelli!!!

Photo taken during the tour courtesy of Maggie Malson and Mike Shipman. You can find Mike's blog here.