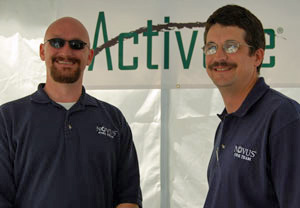 The slogan for Novus International is "Performance Through Innovation" and that is why they employ more than 50 Ph.D. Animal Nutritionists and Doctors of Veterinary Medicine who work continuously to create new products and programs for animal health and nutrition.
One of those is Dr. Brad Lawrence, a swine nutritionist who is manager of technical services for the Novus pork business unit. He is pictured here with Jeremy Lutgen, Novus marketing and PR. Guess which one has the PhD? Hint: it's not the bald guy in the shades.
Brad says one of the main questions producers at World Pork Expo have been posing is how do they optimize energy for their animals, given all the feed ingredients there are available today?
"Just as we see at the pump every day when we fuel up, energy is the single most expensive ingredient that a producer is going to put into his animals' diet, and they are trying to look for ways to minimize the cost of that energy or optimize their return," Brad says.
He talks about the research Novus has done on their high energy diets and some of the products and programs they offer for producers.
Listen to Brad's interview here: wpx08-novus-brad.mp3
Or download here:


Brad Lawrence Interview (4:30 min MP3)
AgWired coverage of World Pork Expo is sponsored by: